Career Academies and Small Learning Communities
"They are very personable and accessible, which is very important. They are not just this amorphous organization out there that is too big to respond. People communicate with them. Their guides are superb, updated periodically, read well, and useful. Their willingness to network and support others is great."
- La Piana Consulting, Strategic Planning Report, 2009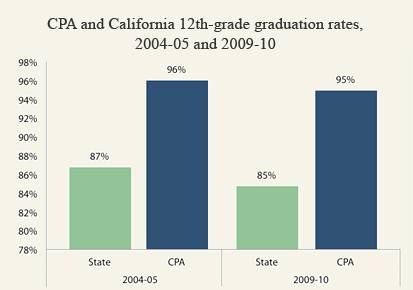 From
Profile of the California Partnership Academies, 2009-2010; Career Academies Support Network, 2011.
Full report and an executive summary
available on this website
.
Small Learning Communities (SLCs) are comprised of two or more teachers working together to coordinate curriculum and instruction across subjects, for a group of students who share their classes. The purpose is to provide a more supportive environment through teamwork among teachers and students, creating a family-like atmosphere that helps students understand the connections among subjects and improves motivation and learning.
Career Academies and Pathways take SLCs a step further by relating academic subjects to a career field via a sequence of career-technical courses, linking students to what goes on outside school and career paths of possible future interest. To accomplish this, academies form partnerships with employers in the selected career field, and two- and four-year colleges in the region. Thus Career Academies point students toward both college and careers, showing them connections between the two.
CCASN has assisted many schools and school districts to implement and/or improve SLCs and Career Academies over its fourteen-year existence, and several of the staff members here worked in this arena even earlier.
Guides and Articles
The following are guides and articles produced by CCASN that are related to Small Learning Communities and Career Academies. They can be download for free from our website.
Workshops
Successful Academy Teaming
Personalization Within the Academy Context
Academies as Professional Learning Communities
Structuring Academies to meet the National Standards of Practice
Steps in Launching a new Career Academy
How to do Cohort Scheduling in an SLC/ Academy
To learn more about our workshops, please go to our Contact page, select "Services" from the Subject menu, and enter your question or request.