Research and Evaluation
"They have a strong focus on practice, high quality practice, based on research and experience in the field. They have a lot of knowledge of what good programs look like and they have data to prove it from their research and their experience."
- La Piana Consulting, Strategic Planning Report, 2009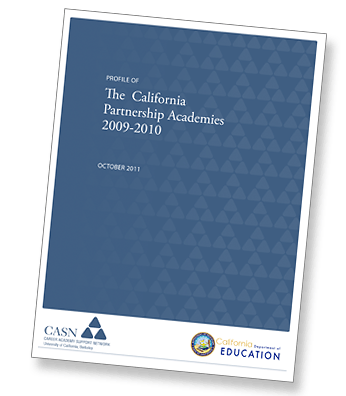 The
Profile of California Partnership Academies 2009-2010
, prepared for the California Department of Education, with support from the Department and the James Irvine Foundation. This report and an executive summary are
available from this website
.
CCASN is based in a leading research university, and as such has a keen interest and extensive experience in research and evaluation. Its Principal Investigator directed the National Center for Research in Vocational Education. Its Coordinator designed the state evaluation system for the California Partnership Academies (CPAs) and led this evaluation for many years. He also led the effort to establish the Career Academy National Standards of Practice. CCASN conducted much of the research on career academies that led to state and national interest in this approach.
CCASN continues to lead statewide analyses of the implementation and student performance findings of the CPAs. It has served as the outside evaluator for federal Small Learning Community grants in 30 high schools in 12 districts in five states. It has compiled a summary of all the leading studies on career academies. And it has worked as an evaluation advisor, designer, or collaborator on a host of high school reform projects.
Guides and Articles
The following CCASN guides and articles can be download for free from our website.
Workshops
Using the National Standards of Practice to Assess a Career Academy
How to Self-Assess a Small Learning Community or Career Academy
Key Measures to Gauge a Career Academy's Implementation and Student Performance
An Understanding of What and How We Know about Career Academies
How to Conduct a Value Added Analysis
To learn more about our workshops, please go to our Contact page, select "Services" from the Subject menu, and enter your question or request.