College-Going Culture
In their own words
From the video, Media Academy, Media College Preparatory High School. To watch the entire video or others that spotlight exemplary Career Academies, please go to Video Vignettes on this website.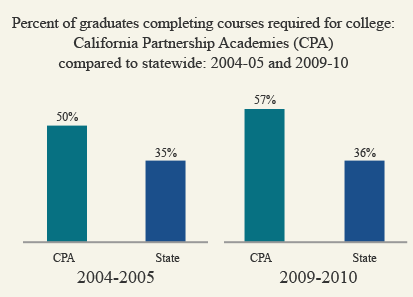 From
Profile of the California Partnership Academies, 2009-2010
; Career Academies Support Network, 2011. This report and an executive summary are
available on this website
.
In today's economy it is important for all students to have the option of attending some type of postsecondary education. CCASN collaborated with the Center for Educational Partnerships at UC Berkeley and the UC Office of the President, to produce the College Tools website. It provides extensive resources to help high schools improve their college-going culture and college attendance rate.
The content offered on College Tools is divided into these sections:
Advancing College-Going
Access to "a-g' Curriculum (courses required for college entrance)
Transcript Evaluation (including a detailed how-to guide)
SLCs and Career Academies
Hands-On Materials
More Tools (glossary, articles, links to other sites, and more)
Each of these sections has a wealth of materials available, all free. Some examples:
The 10 Most Common Excuses for Not Going to College...and Why They are Wrong
Realizing the College Dream, a College Readiness Curriculum and Presentations
California State University Admissions Handbook
UC Individual Academic Planner (A planning guide for high school students)
CCASN guides and handbooks related to implementing SLCs and Career Academies
Hand-outs, curricula, lesson plans, and delivery modes for elementary/ middle/ high schools, and parents
Workshops
CCASN has conducted workshops that help educators promote a college-going culture in their schools:
Advancing a college-going culture in high school
Improving student access to courses meeting college entrance standards
How to conduct a transcript evaluation analysis
How SLCs and Career Academies can advance college going
To learn more about our workshops, please go to our Contact page, select "Services" from the Subject menu, and enter your question or request.