About Our Services
"Numerous interviewees recognized and applauded CCASN staff as the most reputable, knowledgeable, and professional in the field. Their collective knowledge spans the spectrum of career academy models, giving them the ability to identify and trouble-shoot challenges at any point in the lifecycle of career academies."
- La Piana Consulting, Strategic Planning Report, 2009
CCASN provides coaching, professional development, technical assistance, research and evaluation services to support high school education that prepares students for both college and careers.
CCASN's services are tailored to the needs of individual clients. We work with state, district, and school personnel and, when appropriate, include community, industry, and postsecondary education representatives. Fees are based on project parameters and length of contract. The daily rate includes travel-related expenses, preparation and follow-up, and some training materials.
To learn more or receive a list of references, please go to our Contact page, select "Services" from the Subject menu, and enter your question or request.
| | |
| --- | --- |
| | CCASN is a Linked Learning support provider. Learn more. |
Our services address nine areas: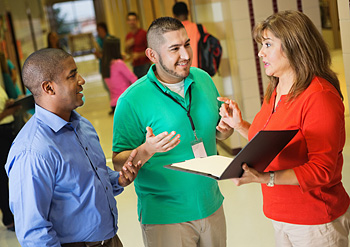 CCASN's Coaching Services
Helping our clients implement high quality career academies, Linked Learning pathways or other pathways that improve students' performance and reduce achievement gaps.

Support for Linked Learning
Providing coaching, professional development, and technical assistance to support the Linked Learning approach to preparing students for both college and careers.

High School Redesign
Understanding the many factors at the district and high school level that need to be considered in improving students' preparation for both college and careers.


Curriculum, Teaching and Assessment
Making curriculum more relevant and meaningful, linking academics with a career field, and assessing learning authentically all require new thinking.

College-Going Culture
There are many ways high schools can motivate students to prepare themselves for higher education and beyond, captured in another CCASN website:
College Tools
.


Research and Evaluation
Conducting analysis of student performance, and building capacity of schools and districts to analyze their own data for program improvement.