California Partnership Academies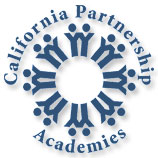 The California Partnership Academies (CPAs) are a network of approximately 500 programs supported by competitive state grants in California's public high schools. Begun in 1985, the CPAs are designed to prepare students for both college and careers. The CPAs are based in the Curriculum, Learning, and Accountability Branch of the California Department of Education.
Please visit the CPA section of the California Department of Education's website for grant and funding information, program resources, and annual reporting requirements.
Finding your way around this website
Teaching & Learning
A searchable database of curriculum to meet the special needs of academy teachers, links to organizations dedicated to strengthening the instructional programs of career academies, and the CPA a-g program list.
Resources
Gateways to useful resources: a collection of implementation guides and articles; a toolbox of templates and forms you can tailor to your own needs; Video Vignettes that spotlight exemplary CPAs; a list of Career Academy Support Organizations; archives of our web-based news publications, and more.
Academy Directories
Separate directories for California Partnership Academies and Academies Nationwide that can be searched by state, high school, academy theme, and location. Each listing includes contact information.